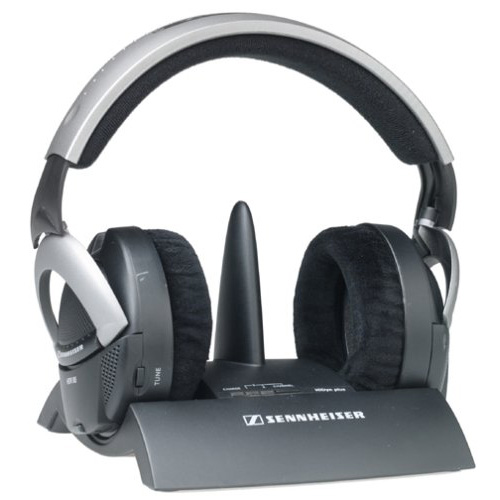 Sennheiser RS 85 On-Ear HiFi Stereo Wireless Headphones
Open circumaural hi-fi stereo headphones for superb audio quality
Automatic tuning for better reception
Volume and transmission channel can be set individually on the headphones
Expand with an additional set of headphones for multiperson use
Soft, cloth-covered earpads and headband cushion for comfortable extended use

From the Manufacturer
The RS-85 wireless RF headphone system with open, circumaural headphones features HiDyn Plus noise reduction for wide dynamics and superb sound quality, ensuring a very natural and detailed sound reproduction. The RS-85 comes equipped with Center-Lock TM Auto-Tuning, which allows you to automatically adjust to the transmitter with a simple touch of a button (and can simply be returned with a second touch if it locks on to your neighbor's transmitter). The RS-85 headphones feature reception up to 300 feet from the transmitter, through walls and ceilings, even outside the home. A second battery pack is also provided for near limitless use; simply charge one as the other is being used.

The 900MHz RS 85 Wireless RF Headphones from Sennheiser cut the ties that bind you to your audio system or computer, replacing them with awesome high fidelity sound and exhilarating freedom of movement Maximum SPL - 101dB Operating Time Per Battery Charge - roughly 4 hours Built-in audio filter for eliminating TV interference Transmitter stores & recharges headphones 2nd rechargeable battery is included.
Customers Interested In Similar Items

---