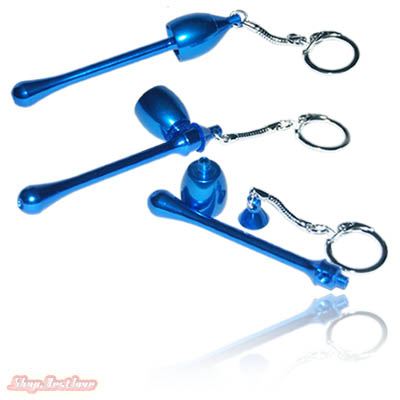 Color Variation:
Customer Reviews - "Mushroom Pipe Key Chain [blue]"

---
Testimonial From: Perfect byMaryjane ( New York - United States )



I bought this for my husband as a gift for father's day/Anniversary which was in the same week. We got it yesterday in the mail which was pretty dang fast in my opinion. I didn't use it myself, but my husband LOVES it. He as always complaining about his pipes hurting him in his pockets because they were so big and bulky. This, he can just carry with him everywhere on his keys and no one knows what it is and it doesn't hurt him. He also said that he can pack a lot in it's bowl. He thanked me over and over again. He just loves it.
---
---
Testimonial From: Best thing ever byMike C. ( New Jersey - United States )



I can't believe I found one of these. Could be the best thing ever invented. I use it all the time. Then i just take it apart, and no one is the wiser.
---
Customers Interested In Similar Items

---