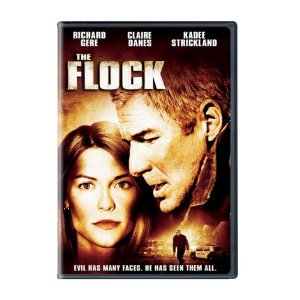 The Flock (2007)
* Actors: Richard Gere, Claire Danes, KaDee Strickland, Ray Wise, Russell Sams
* Directors: Niels Mueller, Wai-keung Lau
* Writers: Craig Mitchell, Hans Bauer
* Format: Closed-captioned, Color, DVD, Subtitled, Widescreen, NTSC
* Language: English
* Subtitles: Spanish
* Region: Region 1 (U.S. and Canada only.)
* Aspect Ratio: 1.66:1
* Number of discs: 1
* Rated: R (Restricted)
* Studio: Weinstein Company
* Run Time: 96 minutes

Condition: New, Sealed

Synopsis:
The paranoid registrant administrator of the Department of Public Safety Erroll Babbage is forced to an early retirement due to his abusive behavior against the sex offenders that he should monitor, and shall spend his last eighteen days training his replacement Allison Lowry. When the seventeen years old Harriet Wells is considered missing in his area of work, Errol is convinced that her disappearance is related to one of his parole sex offenders. However, his superiors do not believe on his investigations and he convinces Allison to follow him in the sick underworld of pornography and perversions trying to find the missing girl.

Customers Interested In Similar Items

---