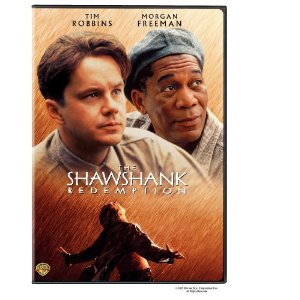 The Shawshank Redemption DVD (Single-Disc Edition) (1994)
* Actors: Tim Robbins, Morgan Freeman, Bill Bolender, Larry Brandenburg, Brian Brophy
* Format: AC-3, Closed-captioned, Color, Dolby, Dubbed, DVD, NTSC, Subtitled, Widescreen
* Language: English (Dolby Digital 5.1), French (Dolby Digital 4.0)
* Subtitles: French, English
* Region: Region 1 (U.S. and Canada only.)
* Aspect Ratio: 1.85:1
* Number of discs: 1
* Rated: R (Restricted)
* Studio: Castle Rock
* Run Time: 142 minutes

Condition: New, Sealed

Synopsis:
Bank Merchant Andy Defrene (Tim Robbins) is convicted of the murder of his wife and her lover, and sentenced to life imprisonment at Shawshank prison. Life seems to have taken a turn for the worse, but fortunately Andy befriends some of the other inmates, in particular a character known only as Red (Morgan Freeman). Over time Andy finds ways to live out life with relative ease as one can in a prison, leaving a message for all that while the body may be locked away in a cell, the spirit can never be truly imprisoned.
Customers Interested In Similar Items

---