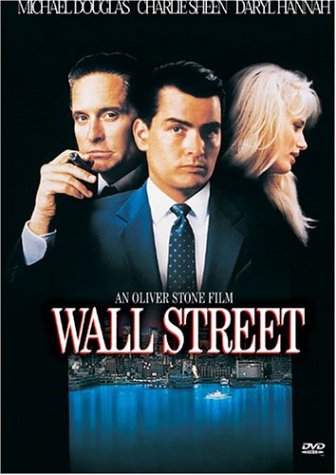 Wall Street DVD (1987)
* Actors: Michael Douglas, Charlie Sheen
* Format: Closed-captioned, Color, Dolby, Widescreen, NTSC
* Language: English, French
* Dubbed: French
* Region: Region 1 (U.S. and Canada only.)
* Aspect Ratio: 1.85:1
* Number of discs: 1
* Rated: R (Restricted)
* Studio: 20th Century Fox
* Run Time: 126 minutes

Synopsis:
Oliver Stone opened fire on the greed decade of the 1980s with this morality tale set on Wall Street. It stars Charlie Sheen as Bud Fox, an ambitious rookie stockbroker from a blue-collar background who is mesmerized by Gordon Gekko (Michael Douglas), a Mephistophelean superbroker who specializes in corporate takeovers. Despite his initial resistance to Bud's entreaties, Gekko finally takes on the eager beaver as his protege, schooling him in the kind of slash-and-burn maneuvers that have taken Gekko to the top. This style is far more attractive to Fox than the more prosaic but principled approach to investing preached by veteran Lou Mannheim (Hal Holbrook). And, at first, it's impossible to dispute his preference; as Bud's life moves into the fast lane, he quickly acquires an upscale apartment and a girlfriend to match, interior designer Darien (Darryl Hannah). But when Gekko demands that Bud not only break the law but directly undermine his union-leader father, Carl (Martin Sheen), and jeopardize the jobs and lives of his friends and family, he realizes that the cost of success might be more than he's willing to pay. WALL STREET is a riveting, testosterone-fueled tour of the Street's upper echelons, featuring standout performances by Michael Douglas and Martin Sheen.
Customers Interested In Similar Items

---