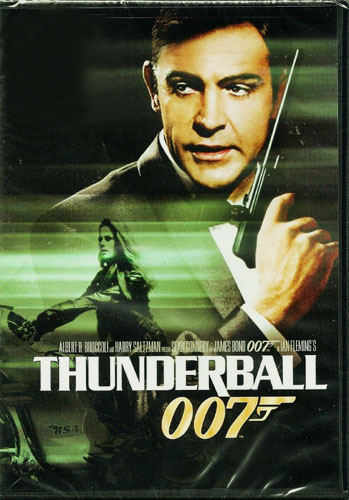 Thunderball 007 DVD (1965)
* Actors: Sean Connery, Claudine Auger, Adolfo Celi, Luciana Paluzzi, Rik Van Nutter, Guy Doleman, Molly Peters, Martine Beswick, Bernard Lee and Desmond Llewelyn
* Directors: Terence Young
* Writers: Ian Fleming, Richard Maibaum
* Format: Color, Dolby, DTS Surround Sound, Widescreen
* Language: English (Dolby Digital 5.1), English (DTS 5.1), French (Dolby Digital 2.0 Surround)
* Subtitles: English, Spanish
* Region: Region 1 (U.S. and Canada only.)
* Aspect Ratio: 2.35:1
* Number of discs: 1
* Rated: R (Restricted)
* Studio: 20th Century Fox
* Run Time: 130 minutes

Condition: Used, Unsealed

Synopsis:
Based on Ian Fleming's 1961 novel, THUNDERBALL is 007 at his best. The fourth film in the Bond series finds the super spy (Sean Connery) battling a powerful organization named S.P.E.C.T.R.E. and its nefarious Number Two, Emilio Largo (Adolfo Celi), who has threatened to destroy Miami with an atomic weapon unless a huge ransom is paid. Of course, James Bond has something else in mind: a full-on infiltration of Largo's boat, the Disco Volante. With double the Bond girls (with Claudine Auger as the luscious Domino and Luciana Paluzzi as the villainous Fiona Volpe), this favored Bond outing features captivating underwater action sequences that hold up to this day. THUNDERBALL was nominated for a Best Special Effects Academy Award in 1965 and is not be confused with the "unofficial" 1983 James Bond film NEVER SAY NEVER AGAIN, which also stars Connery and is based on the same novel.
Customers Interested In Similar Items

---