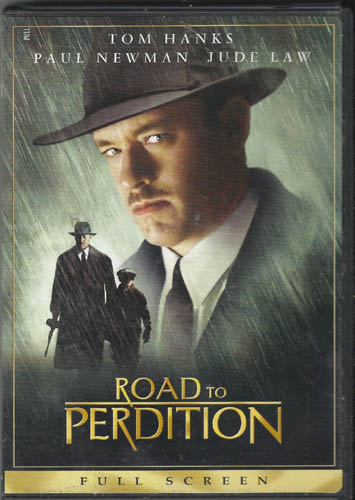 Road to Perdition DVD (Full Screen Edition) (2002)
* Actors: Tom Hanks, Tyler Hoechlin, Rob Maxey, Paul Newman, Liam Aiken
* Directors: Sam Mendes
* Writers: David Self, Max Allan Collins, Richard Piers Rayner
* Producers: Cherylanne Martin, Dean Zanuck, Joan Bradshaw, Richard D. Zanuck
* Format: Closed-captioned, Color, Dolby, Dubbed, NTSC, Subtitled, Full Screen
* Language: English
* Subtitles: English, French, Spanish
* Dubbed: French
* Region: Region 1 (U.S. and Canada only.)
* Aspect Ratio: 1.33:1
* Number of discs: 1
* Rated: R (Restricted)
* Studio: Dreamworks Video
* Run Time: 117 minutes

Condition: Used, Unsealed

Synopsis:
Mike Sullivan works as a hit man for crime boss John Rooney. Sullivan views Rooney as a father figure. However after his son is witness to a killing he has done Mike Sullivan finds him self on the run trying to save the life of his son and at the same time looking for revenge on those who wronged him. Jude Law co stars as a hit man hired to kill Sullivan.



Customers Interested In Similar Items

---