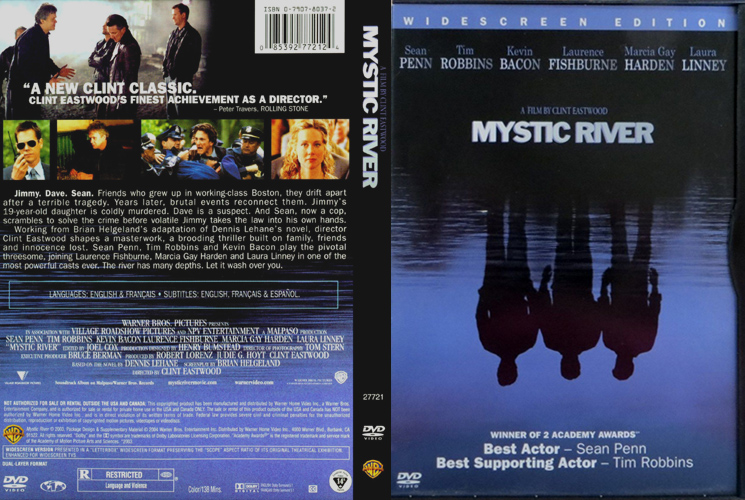 Mystic River (Widescreen Edition) DVD (2003)
* Actors: Sean Penn, Tim Robbins, Kevin Bacon, Emmy Rossum, Laura Linney
* Directors: Clint Eastwood
* Writers: Brian Helgeland, Dennis Lehane
* Producers: Clint Eastwood, Bruce Berman, Judie Hoyt, Robert Lorenz
* Format: AC-3, Closed-captioned, Color, Dolby, Dubbed, NTSC, Subtitled, Widescreen, Surround Sound
* Language: English
* Subtitles: English, French, Spanish
* Dubbed: French
* Region: Region 1 (U.S. and Canada only.)
* Aspect Ratio: 2.35:1
* Number of discs: 1
* Rated: R (Restricted)
* Studio: Warner Home Video
* Run Time: 138 minutes

Special Features:
- Languages: English and Francais
- Subtitles: English, Francais, and Espanol

Synopsis:
Summer, 1975: in a tight blue-collar Boston neighborhood, three kids are playing when one is abducted and sexually abused for several days. Jump ahead: the victim, Dave, is haunted by memories and protective of his own son. Jimmy's an ex-con, father of three. Sean is a homicide detective, estranged from his pregnant wife. When Jimmy's teen daughter dies, Sean investigates, Dave's a suspect, and Jimmy vows to find the killer before the cops. The dead girl has a boyfriend whose long-missing father has a history with Jimmy. The boyfriend's a suspect, and when ballistics turns up a link to a gun owned by the young man's father, the case breaks. In the background, wives move events along.
Customers Interested In Similar Items

---