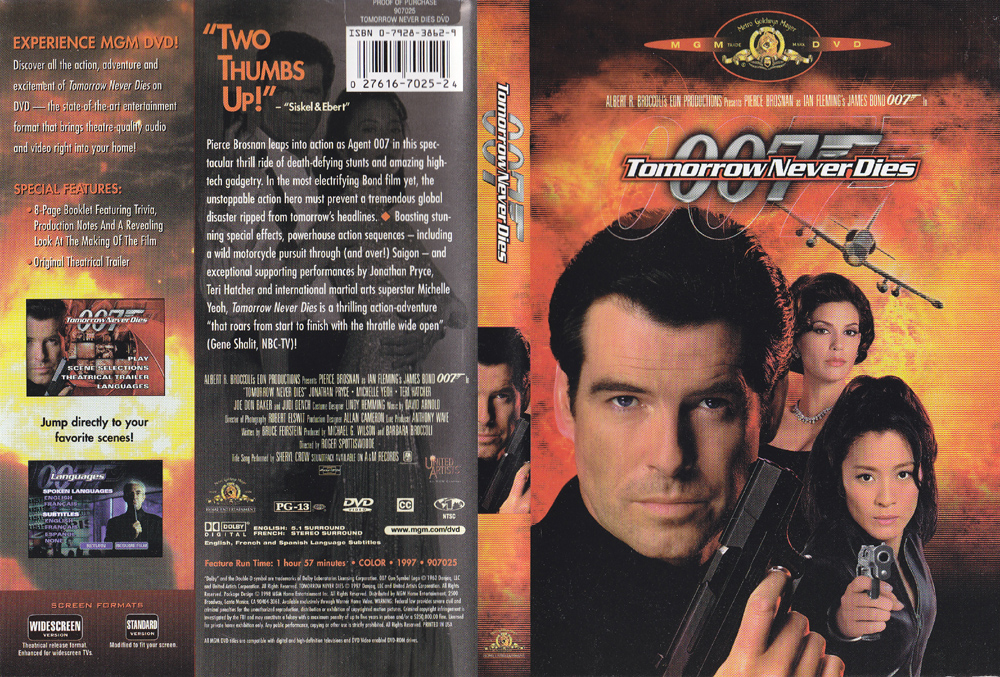 Tomorrow Never Dies 1997 dvd
* Actors: Pierce Brosnan, Jonathan Pryce, Michelle Yeoh, Teri Hatcher, Ricky Jay
* Directors: Roger Spottiswoode
* Writers: Bruce Feirstein, Ian Fleming
* Producers: Anthony Waye, Barbara Broccoli, Michael G. Wilson
* Format: Multiple Formats, AC-3, Color, Dolby, Dubbed, NTSC, Subtitled, Widescreen
* Language: English (Dolby Surround), French (Dolby Surround), Spanish (Dolby Surround)
* Subtitles: English, French, Spanish
* Dubbed: French
* Region: Region 1 (U.S. and Canada only.)
* Aspect Ratio: 2.35:1
* Number of discs: 1
* Rated: PG-13
* Studio: MGM
* Run Time: 119 minutes

Experience MGM DVD!
Discover all the action, adventure and excitement of Tomorrow Never Dies on DVD - the state-of-the-art entertainment format that brings theatre-quality audio and video right into your home!

Special Features:
- 8-Page Booklet Featuring Trivia, Production Notes and a Revealing look at the making of the film
- Original Theatrical Trailer

Synopsis:
Agent 007, the unstoppable action hero must prevent a tremendous disaster ripped from tomorrow's headlines. Someone is pitting the world's superpowers against each other - and only James Bond can stop it. When a British warship is mysteriously destroyed in Chinese waters, the world teeters on the brink of World War III - until 007 zeros in on the true criminal mastermind. Bond's do-or-die mission takes him to Elliot Carver, a powerful media mogul who manipulates world events as easily as he changes headlines from his global media empire. After soliciting help from Carver's sexy wife, Paris, Bond join forces with a stunning yet lethal Chinese agent, Wai Lin, in a series of explosive chases, brutal confrontations and breathtaking escapes as they race to stop the presses on Carver's next planned news story: global pandemonium!
Customers Interested In Similar Items

---